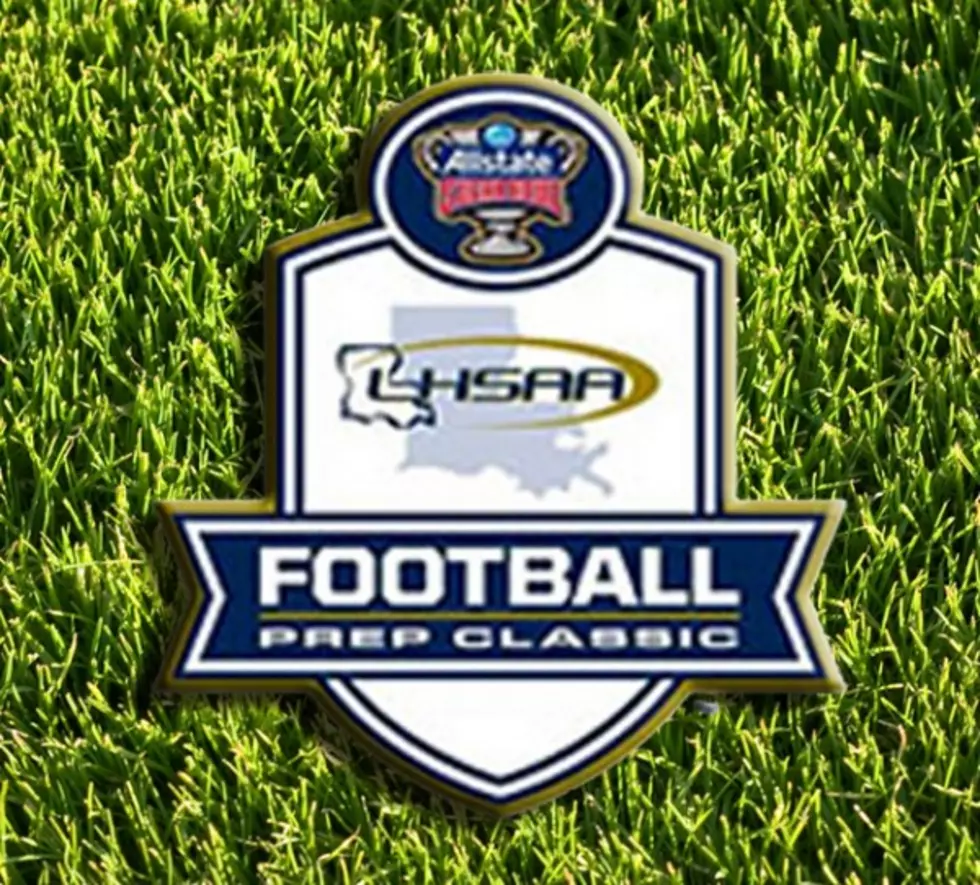 LHSAA 2016 Playoff Brackets Released
(Logo from LHSAA)
The playoffs are here, high school football fans. The LHSAA released all nine playoff brackets, so it's time to dig through all the interesting matchups.
With tons of local teams representing the Acadiana area, we will highlight all their games so you don't have to go searching for them. If you want to take a look at the entire bracket, we have you covered too.
Tons of teams have a chance to make serious noise in the playoffs, and a couple will have a lot of opportunities to play in front of their home crowds, even deep into the postseason.
#10 Barbe vs #23 East St. John
#12 Sulphur vs #21 Airline
#14 Acadiana vs #19 Alexandria
#30 Comeaux at #3 Ponchatoula
#7 Rayne vs #26 Lakeshore
#9 Carencro vs #24 Salmen
#15 Beau Chene vs #18 Leesville
#19 LaGrange at #14 North DeSoto
#22 Breaux Bridge at #11 Plaquemine
#25 St. Martinville at #8 Loranger
#27 Cecilia at #6 Woodlawn (Shreveport)
#29 Washington-Marion at Tioga
#2 Iowa vs #31 Port Allen
#3 Kaplan vs #30 Eleanor McMain
#6 Jennings vs #27 Church Point
#8 Northwest vs #25 Mansfield
#10 South Beauregard vs #23 Winnfield
#11 Berwick vs #22 Brusly
#16 Eunice vs #17 Erath
#28 Patterson at #5 Marksville
#3 Welsh vs #30 Sophie B. Wright
#7 Loreauville vs #26 Bunkie
#17 West St. Mary at #16 Oakdale
#28 Jeanerette at #5 Kinder
#31 Delcambre at #2 Madison Prep
#30 Centerville at #3 Kentwood
#1 Ascension Episcopal vs #16 Highland Baptist
# 5 Lafayette Christian Academy vs #12 Central Catholic
# 10 Vermilion Catholic at #7 Cedar Creek
#2 Notre Dame vs #15 Northlake Christian
#4 Catholic High-New Iberia vs #13 Episcopal
#11 Opelousas Catholic at #6 Calvary Baptist
#16 Sacred Heart at #1 Riverside
#3 St. Thomas More-BYE
#4 Teurlings Catholic-BYE
#9 St. Louis Catholic vs #8 Lusher Charter
#11 E.D. White at #6 Vandebilt Catholic
More From Acadiana Postgame