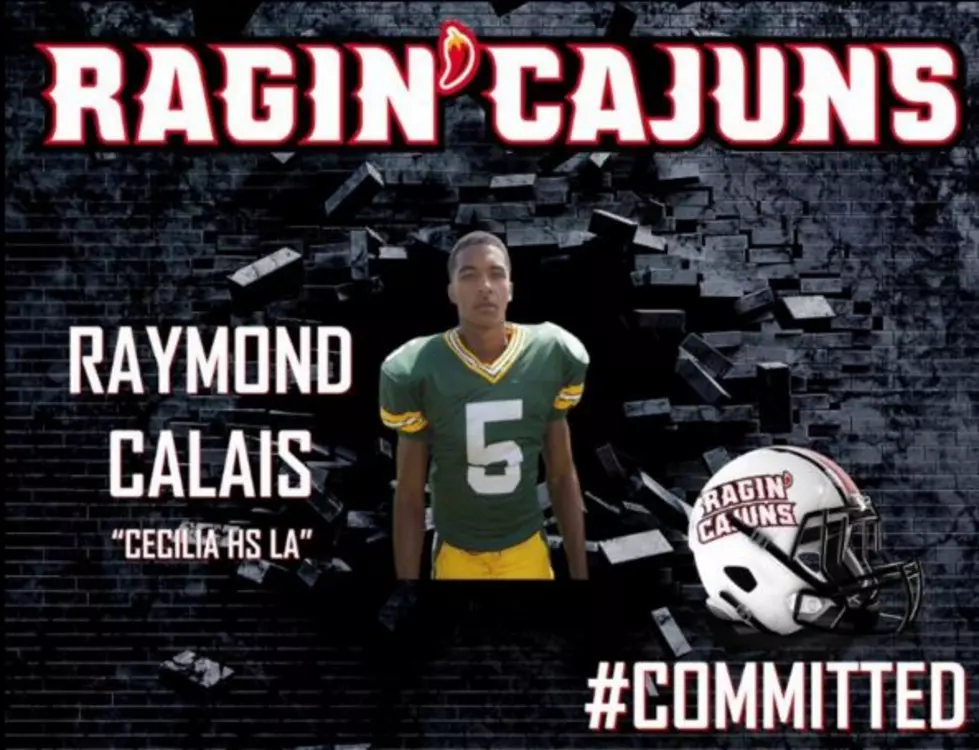 Calais Stays Home, Commits To Ragin' Cajuns
(ragincajuns.com)
Cecilia Running Back Raymond Calais Jr. had a lot of teams calling, but the Ragin' Cajuns and the call of home garnished his commitment.
"The Great Calais" put up gaudy stats his senior season (2,308 rushing yards, 28 TD's), highlighted by numerous touchdowns scored from way out. His longest run of the season was a 90 yarder, but Calais made opponents pay time and time again with big plays on offense and the return game for the Bulldogs. The Ragin' Cajuns locked in a pure playmaker, all they have to do is find a place for him.
Stature isn't his strongest trait as a running back. At 5'9" and a few pounds over 170, his body might not be able to take the beating of a traditional workhorse back. That being said, he ran much harder than his weight would indicate in his final year in high school. Just ask his head coach at Cecilia, Terry Martin.
"He's stronger than people think, and he runs the ball inside," Martin said. "He gets through seams that some other backs honestly don't even see."
A college weight-training program (led by none other than Rusty Whitt) could beef him up. He'll never be a big back, but don't rush to slate him as a slot receiver or strictly a returner just yet. His electric speed is sure to give him a chance to see the field sooner rather than later, and his proficiency in the return game definitely didn't hurt his case when it came to the Ragin' Cajuns making their scholarship offer.
The folks in Cecilia enjoyed Calais for the last four years. Now, they get to share their treasure with the rest of Acadiana. His coach is certainly going to miss him.
"From his standpoint, that pure speed once he gets to that second level is probably better than anybody I ever had," Coach Martin said. "I finally had a chance to really look at his highlights from his senior year, and it's really amazing."
Coach Martin said Calais would have committed to the Cajuns sooner, but Stanford requested his transcripts and communicated with him late in the process. He also heard a lot from Minnesota and a few other schools. You can't blame them for being interested when he averaged over 200 yards a game rushing.
He thought it over, but in the end the call of home was too much to overcome for the other schools.
Whenever Elijah McGuire heads to the next level, the Cajuns will need another lightning bolt to put fear into defenses. Given time to develop and learn the program's culture, Calais could fill up the highlight reels before leaving Lafayette.
He took to Twitter to relay this message to Cajun Nation on Tuesday night:
"Over these past couple of days, I've sat down with my family and decided my final decision on where my football career will continue. I've prayed on it and my heart is telling me to stay home and become a Ragin' Cajun. I would like to thank my parents, all my high school coaches, and the community for their support. All the glory goes to God, without him it wouldn't be possible. #ULL #GoCajuns"
Go get 'em, Raymond. We're all just glad we still get to watch you play football. This time, it will be on Saturdays.
More From Acadiana Postgame